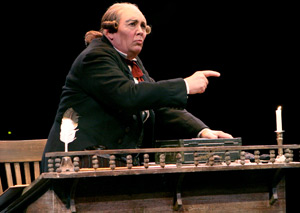 I might be a little bit biased as far as Holiday theatrical performances go when it comes to this particular production of Dicken's "A Christmas Carol" in its musical and merriest of forms, "Scrooge." I have seen brilliant actors and superb direction on the stages of many (if not all) of New Jersey's finest theatre companies, including but not limited to the Paper Mill Playhouse, McCarter Theatre and Two Rivers Theatre Company. But I have always had a personal interest in this theatre and in particular, this show, as my oldest daughter spent most of her young years as a Cratchit child, singing and dancing her way into the holiday season. It also happens to have one of my all time favorite musical numbers, "Thank You Very Much," performed by a good friend from Point Pleasant. But all that aside, this rendition of the Christmas classic has all the charm, warmth and pure joy of Christmases past, present and future. You cannot help but exit the theatre smiling, singing and even dancing (much to my wife's chagrin) after witnessing the onstage antics of this magnificent cast, who return year after year to rousing ovations and more than a few parties in this absolutely magical Community House theatre in the town of Spring Lake, which not coincidentally, looks like it could be the setting of an old time Jimmy Stewart Christmas season movie. This year they are celebrating the 30th anniversary of their version of the timeless tale of Ebenezer Scrooge, everyone's favorite miser as he learns the true meaning of Christmas.
A little background: Since 1978, the Theatre has been the home of the Spring Lake Theatre Company – probably the most well-known and popular member of the Community house "family". Renovated in 1986, the theater seats over 350 patrons – and usually for every performance. The Spring Lake Theatre Company is known far and wide for producing Broadway-quality musicals, comedies, and dramas, with professionally talented casts, lavish sets and costumes, and show-stopping performances. Proceeds from "Scrooge" fund the Community House Christmas Fund which brings new toys and clothing to area families who otherwise would not have anything under the tree on Christmas morning. Over 200 local families in Monmouth and Ocean counties are assisted through this holiday outreach program each year.
If you want to see this fantastic production for yourself to see that I am not exaggerating, call for tickets now, because they won't last long.
December 2, 3**, 4*; 9, 10**, 11*; 16, 17**,18*, 2016 Curtain at 7:30 PM * Matinee at 2:00pm only **Matinee at 2:00pm and 7:30 PM performance