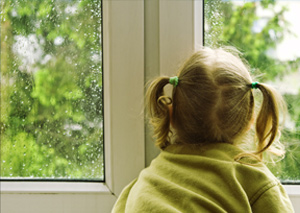 It's October. Al Roker is making me mad. Yes Al, I know we need the rain. Yes Al, I realize we are fortunate not to have the wildfire problems of California. Yes Al, I know you used to like White Castle cheeseburgers and Denny's Grand Slam breakfasts. I know!
Not to shoot the messenger or anything, weather happens. And when it rains, it pours in the Garden State. That's why we get the good tomaters. But what does a mom do with the kids on a rainy Saturday or Sunday when the parks are flooded and the games are cancelled? Movies? Blah. Mall? Please… Thankfully, the crackerjack staff at eNJoynj.com have compiled a Top Ten list of the best ways to spend a rainy day in Jersey. And all of these hot (and dry) spots are close to home. Here we go…
Kayla's Creative Art Studio, Berkeley Heights
908-516-2670
With various open studio paint sessions as well as special events and parties, everyone can have a fun-filled day of creativity and imagination. Whether you are a beginner or a seasoned artist, Kayla's Creative Art Studio welcomes you to come and express your artistic skills.
Glassworks Studio, Morristown
973-656-0800
Glassworks Studio, the country's first walk-in glass fusing studio, offers a wide variety of glass projects for all ages. The studio is exclusively a glass fusing studio, no paint involved! Walk-ins are welcome any time during their open studio hours.
Sky Zone, Ocean Township
732-200-4344
The innovative trampoline park offers a variety of activities for everyone to enjoy including Open Jump, allowing guests to leap, bound and soar, Ultimate Dodgeball, a friendly and healthy dodgeball competition and Sky Slam, taking your jump shot to the next level.
Painted Grape, Hamburg
973-823-1464
Painted Grape offers a variety of classes, birthday parties for kids and adults, bridal or baby showers, private events, BYOB classes and much more. Grab your girlfriends for a night of Paint and Sip, Crochet and Sip or Wreath and Sip, just bring your favorite beverage, a light snack and a creative mind, Painted Grape supplies the rest.
World of Wings, Teaneck
201-833-4650
World of Wings is a Science and Nature Museum, as well as a family fun center    . Check out their butterfly hatching room where you can watch the butterflies emerge from their chrysalises. Don't let your adventure stop there! World of Wings has a soft-play area for toddlers, bounce house, ball pit, rock climbing wall, bubble room, play kitchen and so much more.
Historic Burlington Antiques Emporium, Burlington
609-747-8333
The Historic Burlington Antiques Emporium is New Jersey's largest and most diverse antique shopping center. Browse for hours through the 14,000 square foot building filled from wall to wall with interesting antiques, collectibles and household items. Veteran and new antiquers, young and old, will be stunned at the amount of items for sale.
CoCo Key Water Resort, Mount Laurel
877-494-2626
This fun indoor attraction is open all year and in all kinds of weather. Have fun playing in the 300-foot long lazy river, activity and obstacle-filled pools, play areas and winding water slides. There are attractions for children of all ages, and parents can join in on the fun or relax at one of the spas.
Just Bead Yourself, Westfield
908-BEAD-411
Just Bead Yourself is a full service bead store and walk-in workshop that offers a fun and welcoming atmosphere for kids and adults to create jewelry. You can arrange a time to take a class, have a group beading party, or simply walk in to create your own masterpiece.
Princeton University Art Museum, Princeton
609-258-3788
The museum features an expansive collection of world art. The collection includes African Art, Asian art, modern and contemporary pieces, photography, prints and drawings, European art and more. You and the family can enjoy some self-guided activities, or you can schedule a group tour.
And our Number One Pick:
The New Jersey State Museum, Trenton
609-292-6464
Learn about the great state of New Jersey, learn about history and soar into space at the amazing planetarium at the New Jersey State Museum. Enjoy art, history, culture, dinosaur displays in the museum. You can also take in the wonders of our vast universe at the planetarium, featuring a Full Dome Video experience that allows visitors to feel the sensation of zooming around the solar system. This state of the art facility is the largest planetarium in New Jersey!