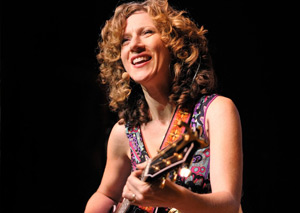 "The Queen of Children's Music" – People Magazine
That's how it began, as children and their parents discovered the magic in the music as written and performed by Laurie Berkner.
When Laurie Berkner embarked on her career as a children's recording artist in the summer of 1997, she started small – personally filling orders of her first release (Whaddaya Think of That?) from her living room in Manhattan while still keeping up her preschool music teaching jobs. It wasn't long, however, before the 500 copies she originally pressed sold out, and Two Tomatoes Records was born.
Laurie's growing popularity in the New York area led to a second release, 1998's Buzz Buzz. Soon more local toy stores and children's specialty shops began selling her music and distribution companies began purchasing quantities of her recordings. Shortly after the 1999 release of Victor Vito, things began to move quickly thereafter, with national media coverage helping spread the word.  Laurie then appeared on the "Today" show and suddenly Two Tomatoes was swamped with orders.
Since those humble beginnings her brand has skyrocketed with games, internet apps, videos and  TV appearances. The thing is, the one area in which she really shines and is the closest to her heart is the stage, in front of a room full of eager, hopeful, innocent and enthusiastic children. To witness her interaction with her young audience is both joyous and awe-inspiring.
Here are a few things to know about the show…
The Laurie Berkner Band welcomes fans of all ages and abilities! We have many fans with autism and other special needs who come in all ages and sizes – be welcoming and kind! Everyone is there to sing, dance, and have a great time 🙂
It's okay to make noise and move around during concerts! You don't need to stay in your seat or be quiet. We love a moving crowd!
While we work hard to be sure the sound is not too loud or overwhelming for sensitive ears, band shows do include drums and all ears are different. You are welcome to speak to an usher if you feel the sound is too loud, and we will do what we can to accommodate.
The kids LOVE her and she loves them right back. She never talks down to them. There is no pandering or patronization. She respects them and truly seems one of them at times, stealthily slipping from master musician and vocalist to a 4 year old with a new toy. It really is something to see.
Fortunately, you can see all of this for yourself and become a fan for life, whether you are a parent or a child. And if you are a parent, you just might want to note the artist, date, venue, time, etc. down on a piece of paper right now. This is one item that should really be at the top of your Christmas shopping list.
December 11
Bergen PAC
bergenpac.org