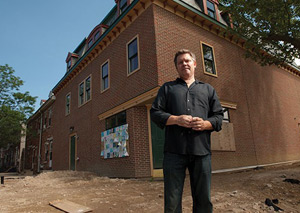 From the time the South Camden Theatre Company's Artistic Director was "Joey" not Joseph M. Paprzycki, his grandfather's corner saloon, Walt's Café, and the interesting group of men that were his customers fascinated him. His grandfather purchased the bar at the corner of 4th and Jasper Street in Camden, New Jersey, just before the onset of Prohibition (a bad time to own a bar) and for many years, until 1967, quenched the thirst of thousands of local shipbuilders from the shipyards in Camden. During World War II over 30,000 men and women went to work at the New York Shipbuilding Corporation. These men and women built the battleships, cruisers and carriers that would help lead the United States to victory. By the 1960's the workers dwindled in numbers. What did not dwindle, however, was the number of bar regulars or their profound need to wind down after a long day of welding, fitting, or riveting. It is from their experiences Joe's first play, "Last Rites", set in this bar, was born. They heard from many that "nobody would come to Camden for a play…especially at night". Over 450 people came during the three-week run to see the play about the bar and the neighborhood in which they were now seated. Since that first play, we've successfully produced two full seasons. Plays like, "The Exonerated", "The Old Settler" and Eugene O'Neill's "Hughie" came to life right here on a stage in Camden, just steps away from Joe's grandfathers now boarded up and unsightly bar. This is how the idea was born to turn a deteriorating bar into a theatre.
Entering its second decade, the theatre is as alive and well as the Waterfront South neighborhood in inhabits. Its initial offering is from the New York City born playwright John Guare. He is best known for his play "Six Degrees of Separation," which earned him both a New York Drama Critics Circle Award and an Olivier Best Play Award. It subsequently went on to become a major motion picture starring Will Smith. The play being performed at the SCTC is entitled "House of Blue Leaves" which premiered Off-Broadway in 1971, winning an Obie and a New York Drama Critics Circle Award for best play of 1970-71. The synopsis alone will fill your head with more than you can handle:
"Set in Sunnyside, Queens in 1965, on the day Pope Paul VI visited New York City, this black comedy features nuns, a political bombing, a GI headed for Vietnam, a zookeeper who dreams of making it big in Hollywood as a songwriter, and his wife Bananas, a schizophrenic destined for the institution that provides the play's title."
As the play opens the audience will be sitting in the place where the shipbuilders once sat on stools, tired and grimy from a days work. They will be reminded of Joe's grandparents, Walt and Sue Evanuk, who would make sandwiches, serve drinks, and give repose to men who worked long days and did such memorable, important work. It should not be difficult to picture them, given that you'll be seated within the walls of the once thriving bar…turned theatre. You, the audience, are the continuance of their dreams and the beginning of a new one. By attending a show here, you become an important part of live theatre in a neighborhood that needs it most and, in a larger sense, you'll be a main player in the renaissance of the city of Camden. YOU will help the Waterfront South Theatre and SCTC anchor a neighborhood rebirth. And just think, when this all started, so many said, "no one would come".
January 15-31
www.southcamdentheatre.org