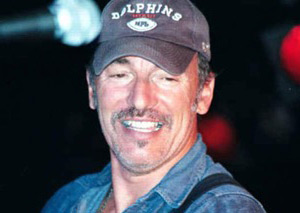 In November of 2000, I was a comedian entertaining on Disney Cruise ships. I would sail for a week, return home to my beloved Jersey Shore for a week, on and on, for years. On one of my luckier weeks at home, I ventured into the Stone Pony in Asbury Park, a place I had know, danced in and performed in many times. I had a few friends from my old rock and roll band days who were doing a benefit for a local artist manager and music biz hotshot Bob Benjamin, who had been diagnosed with Parkinson's disease. It was called Light of Day. Let's see…
Joe Grushecky and the Houserockers, the Pittsburgh-based band managed by Benjamin were the headliners. The show was rockin' and then (surprise surprise), there was Bruce Springsteen, who joined the Houserockers for a late-night set that ended well after 2 a.m. The shows, BTW, are named after a Springsteen song (and the title of a movie starring Michael J. Fox and Joan Jett).
Over the years Light of Day has grown from a one-day event into a festival spanning 10 days in the New Jersey/New York metropolitan area. More significantly, Light of Day has expanded into an internationally recognized tour, through a true grassroots effort of musicians, music fans and benefactors. Light of Day shows take place around the world on 3 continents, including six shows in Canada, an 18 day late November into December trek through Europe, with stops in England, Wales, Ireland, Sweden, Belgium, Norway, Denmark, Italy, Switzerland, Germany, Spain, plus a brand new Light of Day event in Australia! Portions of the proceeds from each show are donated to a local Parkinson's organization.
Performers at Light of Day have included Bruce Springsteen (numerous appearances), Michael J. Fox, John Rzeznik (Goo Goo Dolls), Ed Kowalczyk (Live), Darlene Love, Southside Johnny, Jesse Malin, Alejandro Escovedo, Willie Nile, Garland Jeffreys, Jakob Dylan, Lucinda Williams, Badly Drawn Boy, Pete Yorn, Gary US Bonds, Joe D'Urso and Stone Caravan, John Eddie and many more local unsigned artists.Light of Day also fields a team in the annual Parkinson's Unity Walk in New York's Central Park. Over the years the Light of Day team has raised $80,000, which helped the Walk raise over $3 million for Parkinson's research.
So who will show up this year during the 2017 Light of Day Winterfest? The fun kicks off January 8th and runs through January 14th. In addition to the Stone Pony, the action will take place in the Wonder Bar and the Paramount Theatre.
The Light of Day Foundation, Inc., utilizes the power of music to raise money and awareness in its continuing battle to defeat Parkinson's disease and related illnesses such as PSP and ALS within our lifetime.
The Foundation's mission is to fund research into possible cures, improved treatments and support for patients who suffer from those illnesses, their families and their caregivers to help improve their quality of life.