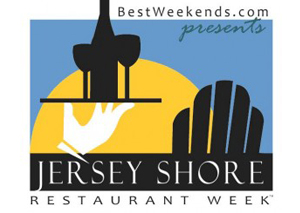 More than 70 restaurants along the coast will be participating in Jersey Shore Restaurant Week. The lineup of gastronomic events will get your taste buds tingling, like Wine & Cheeses of Italy at Undici Taverna Rustica in Rumson on November 10 and a bacon extravaganza at 709 Point Pleasant on November 14. On November 17, the Mill in Spring Lake Heights will host the Great Jersey Shore 2013 Martini Contest, featuring an impressive roster of 12 mixologists competing for the title of Best Martini at the Shore. On the same day, Harpoon Willy's in Manasquan presents Burgers, Bloodies and Brews with cheeseburgers washed down by spicy Bloody Mary's or your favorite beer.
Nov 7
Branches, West Long Branch
Arrive hungry for the fifth anniversary Dream Dinner presented as a prelude to Jersey Shore Restaurant week and featuring five chefs, five courses and five wines.  The chefs represent some of the Shore's top culinary spots: Chris Brandl of Brandl in Belmar; Phil Deffina of David Burke Fromagerie in Rumson; Terry Eleftheriou of Shipwreck Grill (Brielle) and Shipwreck Point (Point Pleasant Beach); Mike Jurusz of Chef Mike's Atlantic Bar & Grille in Seaside Park; and Mark Mikolajczyk of Black Trumpet in Spring Lake. 6 pm.
$85 per person includes dinner, wine and gratuity. 123 Monmouth Road, West Long Branch. Cash bar will also be available. Event hosted from 6-9 PM.
Nov 10
Undici Taverna Rustica,  Rumson
Vic Rallo, Host of PBS' "Eat! Drink! Italy!" with Vic Rallo and Owner of Undici in Rumson and Basil T's in Red Bank presents…
Over 50 wines and delicious cheeses and pastas from the regions of Italy. This event sells out every November, so order tickets early clicking here!! Cheeses courtesy of Sickles Market in Little Silver.
Nov 14
709, Point Pleasant Beach
Who doesn't love bacon? The smell of it cooking in the morning, the taste of a BLT, a wedge salad at a steakhouse? Bacon makes everything better; it's as they say, the candy of meat. Join us for a night of bacon tastings brought to you by the 2013 Food Truck People's Choice winner, Bacon on Wheels (BOW) and Berkshire Black Pork. Chef Jimmy of BOW, alongside Berkshire Black will be laying out an impressive spread of porky bacon goodness. We'll pair it with bacon inspired cocktails and Third Shift craft beer. Add some cool tunes…what a night!
Nov 16
Harpoon Willy's, Manasquan
Burgers Bloodies and Brews! Have a burger with a beer or bloody at a special price! Event is from 12 – 4 PM.