I have been hearing about this place for years, and though I've always wanted to go there (or as Tina fey would put it, "I want to go to there"), I never really knew what it was. I knew there were grounds for coffee, grounds for divorce, parade grounds, groundhogs, and ground round, but when I finally, in all my latent wisdom, put two and two together, I realized the word "sculpture" would obviously (to anyone but me) indicate that this was a museum of sorts and had to do with ART. Brilliant, Gary, now go play in the traffic.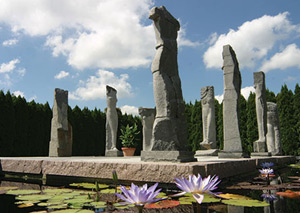 If you have seen the recent Tim Burton / Johnny Depp collaboration of the movie "Alice in Wonderland," you are somewhere close to the feeling you get when you enter the 35 acre theme park that is Grounds for Sculpture (minus the "off with his head mantra). No special effects 3-D ticket needed for this show, as you are immediately transformed by this outdoor gallery of whimsy, playful and thoughtful artworks in a setting that is as peaceful and family-friendly as anything I've ever seen. To be honest, it was worth the wait for me, because in no way could I anticipate the wonder of what I was about to see, feel, experience and lock away in a special area of my brain that I reserve for beauty and passion (as opposed to the other parts of my brain reserved for baseball stats, fine versions of 18-year old scotch, the Victoria's secret catalogue ordering codes and the phone number of Pat's Pizza).
Each season, Grounds for Sculpture presents new additions to the outdoor permanent exhibits and feature individual artists in its indoor galleries. Witness the "Noble Steeds" collection of Deborah Butterfield's brilliant pieces featuring horses as her motif. Or the amazing sculptures of Emille Benes Brzezinsli, using chisels and chain saws to create masterpieces out of giant tree trunks. Or the magnificently carved saints of Felix, Joseph and Krissa Lopez.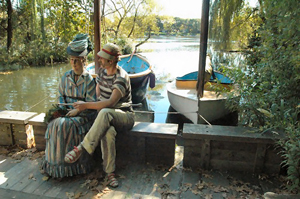 Featured events this month are The Art of Modeling a Bust, where in a 4 session workshop taught by artist in residence Gyun Hollosy, you will discover how to create your own clay portrait, no matter what skill level you possess. It may even win you a date with Demi Moore. There will be music in the air as well with a concert featuring the 40th Anniversary celebration of Carole King's Tapestry Album, where four talented singer-songwriters will perform songs like, "I Feel the Earth Move," "Will You Still Love Me Tomorrow" and "You've Got a Fern" (it's the outdoorsy thing, ya know).
The atmosphere is incredible, especially at this time of year where every flower, shrub and tree begins to bloom. There are rules and codes of behavior to follow to keep this as peaceful as they are now, just as with any other museum or gallery. This one just happens to be outside. For starters, here are a few examples… The Obvious: Please do not litter; Photography is permitted for personal use only; No smoking please. And the Less Than Obvious: Shoes must be worn at all times; Do not let your children play in the art water fountains and my favorite… Please do not disturb or chase the Peacocks. Got all that? Good.
Shop if you like in the main building and bring home a small piece of this wonderful experience with you, or dine in Rat's Restaurant. Don't let the name scare you. This superb eatery was named OpenTable.com's Diner's Choice 2010 Winner. For more information concerning times, directions and more cool rules, visit their website.