The staff of EnjoyNJ would like to send a heartfelt and well deserved congratulations to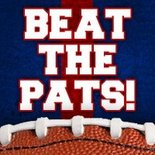 the NFC Champion, NY Giants and their fans (who actually play in East Rutherford, NJ AKA "The Meadowlands") on a hard fought win against a very excellent San Francisco 49er Team.
In two weeks the Super Bowl XLVI  will be played in Indianapolis, IN. at Lucas Oil Stadium. This rematch pairing against Tom Bradey and the New England Patriots has all the earmarks of a classic smash mouth contest that will be likely be decided by which every team can better neutralize the  potent offense of their opponent.
This rematch promises huge view ratings as the Manning v Brady story line has the attention of not only sports fans but the general public. Can the Giants D hold down Brady? Can Eli pull out one more win? We are rooting hard for Big Blue!
We congratulate Coach Tom Coughlin, Eli Manning and the entire Giant team and staff on a terrific win. On to Indianapolis!
On  side note,  2014 Superbowl is coming to MetLife Stadium in the Meadowlands. More on that later…