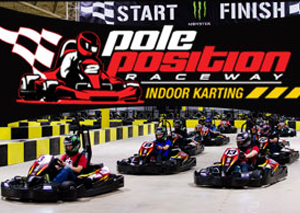 OK, it's winter and the kids are looking for something to do besides:
A) play video games;
B) dress the dog like a Jedi knight;
C) drive you slowly up a wall.
We have the perfect idea, and it works for both boy and girl (as well as child and adult). It's called Pole Position Raceway and this is not your daddy's bumper cars.
Inject a touch of ferocity into your friendly rivalries—take buddies or your brood indoor go-kart racing. Located in Jersey City, five minutes off Turnpike Exit 14B, Pole Position Raceway will quicken the pulse of any tyro and give experienced racers a genuine adrenaline jolt.
"There are a range of experiences unique to each age set here," says Karen Davis-Farage, owner and president of Pole Position Raceway New York/Jersey City. "It's a great place for families."
Safety comes first, but this isn't bumper cars. Pole Position Raceway's two quarter-mile courses feature hairpin turns and S curves. You aren't just steering around. These are real races—14 laps that take about 20 to 25 minutes, including prep time. The ground-hugging Italian-made karts that adults and youngsters taller than 4 feet 10 inches drive reach speeds up to 45 mph. It feels even faster because you're buckled in mere inches above the roadway.
"You can actually feel the centrifugal force when you're driving," Davis-Farage says.
Kids under 4 feet 10 inches drive junior karts, which are smaller and slower, averaging a tame 25 mph. Each course is monitored by a controller who has the ability to start, stop, speed up, or slow down any kart via remote control to corral reckless behavior. What about fumes and engine noise on an indoor track? Not to worry. The karts are electric, quiet, except for a low-level hum, and emission free. Tykes less than 4 feet tall, and the faint of heart, can play more than 20 arcade video games and air hockey. If you're big enough to wield a billiards cue, you can rack them up on two pool tables. Racing fans can ogle the NASCAR, Motocross and Grand Prix memorabilia displayed around the 80,000-square-foot facility.
Each track can accommodate 10 karts at a time. Drivers are issued helmets and assigned a kart on a first-come-first-served basis. But groups of eight or more can reserve a track and starting time, minimizing waits. Larger groups can schedule private races of 45- to 90-minute duration that up the verisimilitude with pit stops.
On Mondays, Pole Position Raceway combines its two tracks into the "Super G," claiming it's the longest indoor kart course in the nation. Pole Position Raceway runs adult leagues, youth summer camps and 45- to 90-minute races open to the general public.
Start your engines!