FIRING UP A GROWING LIST OF BARBECUE RESTAURANTS IN NJ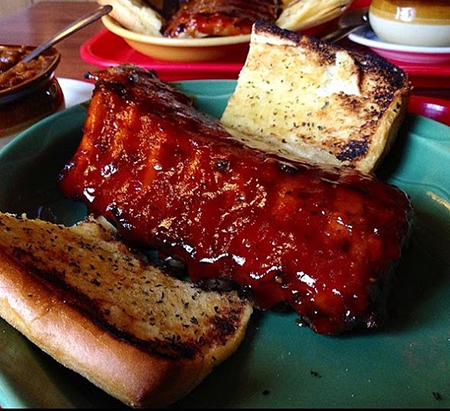 Now that Thanksgiving has passed, I can admit that all I really felt like having that day was barbecued ribs. It's not weekly, and not even monthly, but when I want ribs – I want good baby back ribs. In New Jersey, until a few years ago, the options were not abundant; however, the list of places to fulfill that sloppy bone-cleaning hunger is expanding. My only nearby choice in Bergen County used to be Cubby's BBQ Restaurant in Hackensack. While there is nothing to be said about the surrounding area with the jail diagonally across the street (no need for concern), owner Bobby Egan beautifies his property from spring to fall with beds of flowers bursting with color. It can't help but to catch your eye, even more so than the sign, contrasting heavily with the grey backdrop of River Street.
For nearly thirty years, this mainstay with the pig caricature sign adorning a bib labeled "killer baby back ribs" has been known for living up to that moniker. I, for one, prefer to eat rib meat with nothing but a fork and am able to do so here. It should separate from the bone without a knife, and there ought to be no scraps left behind, unlike the Chinese-style spare ribs that tend to have to be gnawed upon to get all the pork into your mouth. While Cubby's doesn't define its style of ribs – only as "home-style", I think it leans towards Kansas City with a tomato-based sauce, a little on the sweet side and visible chopped garlic. The full or half rack is served intact leaving the diner with the fun part of separating each rib and watching them fall apart one by one until finished. The order comes with garlic bread and a choice of side (i.e. salad to ward off guilt, mashed potato and gravy, sweet potato, etc.).
Along comes another location of the Brooklyn-born Mighty Quinn's (although the cook always smoked the meat in Hunterdon County, NJ). Now Clifton has a barbecue option. Mighty Quinn's rests its bbq laurels on slow-smoked wood-fired meats, using both Texas and Carolina methods. Both Cubby's and Mighty Quinn's are cafeteria style, but MQ has communal tables, whereas Cubby's has individual tables. The combination of spice on the dry rub and the infusion of smoke provide a bit more flavoring to the meat as a standalone. Here, the meat you order is hacked up at the front counter before your eyes. The ribs are divided with a cleaver, almost forcing you to eat them with your hands, since they are already separated. The sauce, which is not even needed and may steal away the smoking and spicing efforts, is served in a bottle at the table for those who can't eat meat without slathering something on it. MQ tries to be a little more progressive with its sides. Although it's hard to fancy up this southern food, items like buttermilk broccoli salad, burnt end baked beans and sweet corn fritters are all worthy enhancements.
There are other establishments now to tickle your ribs, and some may even be contenders in this growing fight for New Jersey meat eaters.
Blind Boar Bar-B-Que in Norwood
Bourbon BBQ Hickory Smokehouse in Wyckoff
Dinosaur Bar-B-Que in Newark
Famous Daves with six NJ locations
Fink's BBQ in Dumont
Stickey's BBQ in Hillsdale
Texas Smoke Barbecue in Jefferson
While the core region for barbecue in America is the Southeast, New Jersey is beginning to represent for those states fairly well. When you want ribs, invite your friends, call the Flinstones and have a yabba dabba doo time at one of these nearby restaurants.
Evelyn Weiss Francisco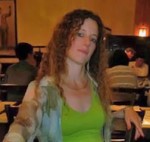 is a Foodie and blogger from the Garden State. Her Blog, "Dishing on Dining", has been running continuously since January of 2012. By day, Evelyn is a busy account executive with a Public Relations firm, by night, a writer with a passion for all things food related.