On Friday, January 27th Felix Cavaliere's Rascals and The Duprees will be performing in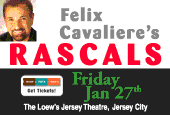 concert at The Historic Loew's Jersey Theatre, 54 Journal Square, Jersey City. The concert is being sponsored by The United Jersey Blues Network, The Journal Square Restoration Corp, Square Ramp Parking and WFDU FM.
From 1965 through 1969, Felix Cavaliere and the Rascals were one of the biggest groups in the country, their hits including the Felix-sung "Good Lovin'," "Groovin'," "A Girl Like You," "A Beautiful Morning," and "People Got to Be Free," as they evolved from blue-eyed to pop psychedelia and jazz fusion. Felix sang lead on most of the tracks. The Rascals' biggest hit, "People Got to Be Free," was co-written by Felix and Eddie as an impassioned response to the assassinations of Sen. Robert F. Kennedy and Rev. Martin Luther King, Jr. It topped the charts for five weeks in 1968 and inspired a follow-up single, "A Ray of Hope," written for and about Teddy Kennedy.
In 1997, Felix Cavaliere along with former Rascals band members was inducted into the Rock & Roll Hall Of Fame, the highest recognition a band/musician can receive.
.
The Duprees are known the world over for their romantic interpretations of the most beautiful love songs ever written. Starting out in the early sixties, in Jersey City, New Jersey, The Duprees were discovered by George Paxton of Coed. Impressed with their smooth vocal quality, he had them record Jo Stafford's 1950's ballad "You Belong To Me" with Big Band arrangements. It was an instant national hit and the group's first Million Seller.  The unmistakable sound was born and the hits kept coming:
1962 You Belong To Me · 1962 My Own True Love · 1963 Gone With The Wind · 1963 Take Me As I Am · 1963 Why Don't You Believe Me · 1963 Have You Heard · 1963 Love Eyes · 1963 It's No Sin · 1963 The Sand And The Sea · 1964 It Isn't Fair · 1966 Let Them Talk · 1966. The Duprees have been inducted into the Vocal Group Hall of Fame.
Tickets are available online at: brownpapertickets.com/event/214786. For more information call 201.963. 0408. Secure, reduced rate parking for ticket holders is available right behind the theatre.