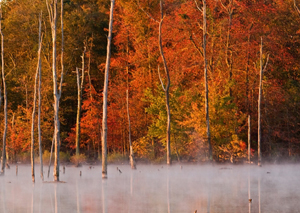 I don't know about you but to me it seems like the fall season does not exist. One day we're putting away the beach chair, the next we're grabbing a snow shovel. I'm confused lately. The weather is just bonkers. Earthquakes, hurricanes, torrential rains that rival anything Costa Rica has to offer, and then a blizzard. I like autumn. It is my fourth favorite season. When the temperature drops and the air becomes crisp with that fall smell, people just want to get out there. A playoff baseball game, sitting under the Friday night lights at your local high school, bicycling along the shore…there are so many activities that occupy our free time this month, but one that stands out because with this one, it's now or never. We have a window of opportunity to eNJoy this one, because Mother Nature does what she wants, when she wants to. Like Oprah or Rachel Maddow. It is of course – checking out fall foliage. The best place to watch the leaves change color is New England. But this year the colors are not as vibrant as they are being washed out by the tears of Red Sox fans across the region. New Jersey has some of the most beautiful viewing spots in the nation as different areas produce different varieties of trees and the leaves that go from a deep crimson to a golden brown (Damn, now I'm hungry for waffles with strawberries!).
Once that first frost finds the fields (say that three times fast), there comes a time of indeterminate length where it all comes together at once, like a perfect storm of color. Conditions revolve around the amounts of sunlight, moisture and temperature change. For those of you who liked physical science…"A leaf changes its visible color when the chlorophyll – the green stuff that transforms sunlight into complex sugars that nourish the tree – stops doing its job, recedes and allows the underlying hues to show through." Or it could be a bunch of kids with paintball guns. I was more of an English and Art kind of student. But I do like my Jersey palette of colors. We have hickories and oaks that give off warm, rustic hues, sugar maples with their golden tones, the mahogany color of ash trees. But fall is much more than changing colors. It's an opportunity to tour the state to experience all it has to offer. Peak fall color usually happens between October 19 and 29 but check your local weather forecasts for the best time to witness these spectacular sights. Here are some tips and choices you can make to take it all in. Bring your camera…

BEST HIKES
Delaware Water Gap: Mt. Tammany, Sunfish Pond
Four Birds Trail and the Hawk Watch in Farny State Park
Pyramid Mountain – Overlooks at any loop in the park
Hawk Rock Viewpoint in Ramapo Valley County Reservation
Monument Trail – High Point State Park
BEST DRIVES
Green Sergeants Bridge in Sergeantsville                                                                               Frenchtown along the Delaware River
Whitesbog Village Driving Tour                                                                                            Farmlands Tour – From Buena Vista through Estelle Manor to Tuckahoe.
BEST ALTERNATIVE
SeaStreak – Hudson River Fall Foliage Cruise leaves out of Highlands and sails the Hudson River past the Palisades and up to West Point.
Get out there now. Because winter and all that goes with it is right around the corner…