This was the night that tapas and I were meant to become acquainted. I always like to get the value of what is being paid, and the notion of spending $10 or more on "small" tasting plates never seemed favorable to my belly or my purse.
Cravings in Ridgewood, NJ, eradicated that stigma. Parking limitations in downtown Ridgewood can be a deterrent, but this place is located across from the train station, where cars are coming and going often, opening up spaces. The menu offered tapas portions and entree portions, but it wasn't clear which was which with prices varying from $12 to $25 or so.  The waiter explained without us asking that items priced under $15 were tapas.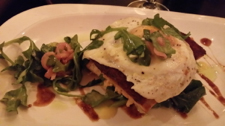 Lobster Sandwich
Anything "lobster" usually flashes loudly on the menu, and my friend heard and saw it clearly. He ordered the lobster bisque and the lobster sandwich, described as, "Maine lobster, buttered white toast, sunnyside egg, pickled onion salad". The bisque was bouncing with lobster flavor, but any evidence of even bits of lobster meat swimming in that bowl was gone. I searched high and low for chunks of lobster in the "lobster" sandwich but could only see some orange flecks. The descriptions are a bit too promising. The sweet/sour onions, though, married beautifully with the arugula and fried egg.

Lobster Bisque

Grilled Octopus
The tapas portion sizes were generous. They say pork fat rules; I say crispy pork fat rules. I was secretly clapping when my friend ordered the chicharones with clams and cannellini beans. Oh, but that crispy pork was predominately mine. The ahi tuna tartare with cucumber and toasted sesame dressing was just the opposite, being a lighter, refreshing tapas. It was delicate and a bit hard to take off the plate, as the thin slices of cucumber were too flimsy to hold the tartare. But once it hit your mouth, it didn't matter how it fell apart.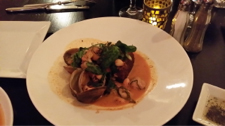 Chicharones with Clams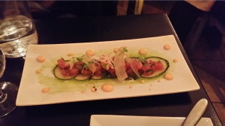 Ahi Tuna Tartare
My favorite, though, and surprisingly so, was the gnocchi topped with lamb and fresh thyme. The gnocchi wasn't too dense, and the lamb added a bold taste to a normally bland pasta.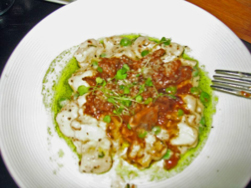 One of the other entrees we tried was the sauteed branzino with tomato, roasted fingerlings, kalamata olives. This was another winner for the crisp category.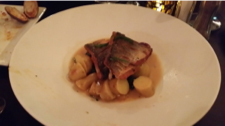 Branzino
The meal felt like an eating frenzy for my first tapas experience because there were a number of dishes coming out at once, and I didn't know what order to go in. Each time a new plate arrived, it felt like the new kid striving for my attention. I now am proud to have a tapas stripe on my foodie belt and am ready to advance to others.
Some to consider are:
Elements, Haddon Heights
Lola's, Hoboken
Tapastre, Somerville
Tapas de Espana, North Bergen