The topic of Chinese food restaurants in NJ invokes college memories of writing a 20-page thesis. As we are taught, let's narrow the topic to not be so overwhelming – authentic Chinese food restaurants. I am going to forego inclusion of all take-out establishments, not to say that there aren't good ones. But for this subject, I'll visit some more refined Chinese eating establishments.
Many Chinese restaurants take the liberty of putting up a sign of being the self-proclaimed "best". You see it often. Let's face it though – to appeal to many Americans, the authentic Asian food, which for many of us may seem weird or "gross", is given to us in an Americanized version. There's actually no such thing as "duck sauce" in China. As a result, we equate Chinese food to Sesame Chicken, Egg Rolls, Orange Beef and the like. And there are many good places for that in New Jersey. In Bergen County, Empire Hunan (Fair Lawn, Teaneck) offers consistently good, recognizable dishes; In Passaic County, Chengdu 46 (Clifton) provides more upscale offerings, such as Lobster in Chengdu Sauce and Emperor Filet Mignon. In Essex County, Baumgart's (Livingston) is taking a stand by combining recognized dishes with some authentic ones like Fish Head and Tofu Soup taken from the new owner's former restaurant in NYC. Another shining example, in Morris County, would be Hunan Taste (Denville) with its dazzling rows of decorative fish tanks and a more than decent version of Grand Marnier Shrimp.
It was a casual conversation a few years ago with my Chinese friend (yes, this is relevant), though, that brought me to Petite Soo Chow in Cliffside Park. He continued talking about it, and I wondered why he thought I'd be so interested. Something caught my ear when he said, "It's the only place in New Jersey to get soup dumplings…and they're really good." But my Chinese-food cynicism clicked in and drew a picture of broth with mass-produced wontons like anchors at the bottom of a pool. He described it as steamed dumplings with a pork meatball and 'soup' inside. (A week later, this showed up in New York Times, and the wait line for a table tripled: http://www.nytimes.com/2010/05/02/nyregion/02dinenj.html.) I, not being Asian, was in the minority at this restaurant tucked sideways in a parking lot. This has to be good – Chinese people in a Chinese restaurant! And there at the entrance was the co-owner behind plexiglass, a woman rolling, stuffing and twisting these "steamed buns" (as they're called on the menu) all night long. It's almost an assumption that every patron wants an order to start. Ten minutes later the pot is brought to the table and uncovered, revealing the hot gift-wrapped surprises.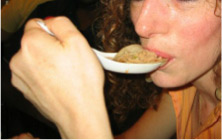 Fortunately, my friend forewarned me not to just bite into it. So I followed the acceptable procedure of using chopsticks to gently pick one up and place it in my soup spoon. You don't want it to break and lose the liquid. You can dip it into the vinegar with ginger provided and then bite off the twisted top of the dough while holding it in your spoon with chopsticks. This lets some steam out. If you want sesame chicken, go to one of the places mentioned above for a tasty version. If you want fresh Chinese food that hasn't been bastardized, come here. If you have a friend that speaks the language – even better. You'll get to try items not on the menu. Even though I know what's inside those hand-made packages, it's like opening a gift every time. There's really nothing on the menu that would make you squeamish. I don't think Andrew Zimmern will be stopping in here yet.