Variety is the spice of New Jerseyans. We want choices, but at most dining establishments we  order an appetizer and an entrée – a variety of two. It's too much food if we want to sample other dishes, and especially too costly. Enter: the tapas place. Now, maybe it's the way we say it in New Jersey, but I have carefully annunciated to friends that I tried a "tapas place", and I still get the questionable look of "topless?" Tapas restaurants haven't been abundant in our state, and the notion of spending $10 or more on "small" tasting plates never seemed favorable to my belly or my purse.
Cravings in Ridgewood, NJ, smashed that negative impression. Parking limitations in downtown Ridgewood can be a deterrent for some, but this  is located across from the train station, where cars are coming and going often, opening up spaces. The menu offers tapas portions and entree portions, and the waiter was kind enough to explain without us asking that items priced under $15 were considered the tapas.
The portions were generous – somewhere in between an appetizer and entree.  The chicharones with clams and cannellini beans kept pork fat as the ruler.  The ahi tuna tartare with cucumber and toasted sesame dressing was just the opposite, being a lighter, refreshing dish with happily married flavors.
My favorite, though, and surprisingly so, was the gnocchi topped with lamb and fresh thyme. The gnocchi wasn't too dense, and the lamb added a bold taste to a normally bland pasta.
One of the entrees we tried was the sauteed branzino with tomato, roasted fingerlings, kalamata olives. This was another winner in the crispy category.
The meal felt like an eating frenzy for my first tapas experience because there were a number of dishes coming out at once, and I didn't know what order to go in. Each time a new plate arrived, it felt like the new kid striving for my attention.  Therefore, it is not your typically organized meal. But this style of eating in New Jersey must be gaining popularity because Cravings is often booked with reservations on the weekends, and owner Marcelo Czernizer closed his The Stable across the street to replace large hunks of shaved meat with ANOTHER tapas restaurant, Finca. While Cravings is influenced by Spanish and European flavors, Finca, dubbed the estate of small plates, will explore other parts of the globe. I'm not sure if Marcelo is helping to set the trend for NJ diners, or if he's trying to keep up with it and his overflowing flagship.
The Italian word "spuntino" also means snack. Clifton Commons is the home of Spuntino Wine Bar & Italian Tapas (sounds like a contradiction and a redundancy). At first glance of the menu, it appears to be like any other Italian restaurant with Meatballs, Lamb Chops, Calamari, Spaghetti alla Vongole…until you see the appetizer-like prices. Spuntino creates mini-me Italian dishes.
So whatever style small plates you prefer, start sampling away in NJ!
Evelyn Weiss Francisco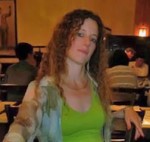 is a Foodie and blogger from the Garden State. Her Blog, "Dishing on Dining", has been running continuously since January of 2012. By day, Evelyn is a busy account executive with a Public Relations firm, by night, a writer with a passion for all things food related.