Relic hunting has been the catalyst behind my personal love of history. In school and university, I admittedly found it boring. Finding physical pieces from the past fueled my interest to learn more, and to appreciate the struggles and achievements of the men and women who preceded us.
New Jersey is rich in history and there's so much to learn – and find! Below are just a few 20th-century military items I've found, and some very basic introductory information on how those wars affected New Jersey residents. I hope you'll continue on to the links I provide to learn much, much more!
WWI
This first item is my most surprising find of all time. I was searching behind a town municipal building (I always get permission to hunt properties, both public and private) and not having much luck. I decided to change tactics and explore a small wooded area behind the building, alongside a creek. Much to my shock, I saw a horn laying right on top of the ground (it probably was prevented from sinking due do all the tree roots and ivy). I picked it up and it was in amazing shape. I still wasn't sure what it was exactly until I Googled the engraving on it:
WURLITZER
CHICAGO DEPOT
SPEC 1152
8-28-17
What I had was a WWI trench bugle! How it wound up where it was for me to find will forever be a mystery, but it led me to learn a little more about WWI, specifically as it relates to the Garden State. Off the battlefields, New Jersey contributed to the war effort primarily through its ammunition, paper and supplies factories. Companies throughout New Jersey either formed or converted their existing operations to produce a variety of necessary products to support the demanding needs of the war. Hoboken specifically was very busy during the this time because it was a port town. There soldiers who reported for deployment overseas, either on American ships or ones captured from the Germans.
Two great websites to learn more about New Jersey's role in WWI are Hoboken Historical Museum and Wikipedia.
WWII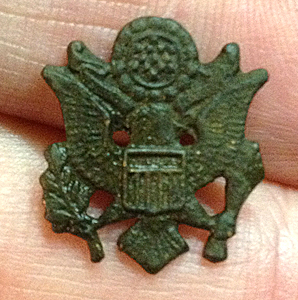 One day I was searching a very junky private property's front yard. There was so much modern garbage and I was getting discouraged. When I'm unearthing nothing but pull tabs, scraps of aluminum siding and roofing nails it sometimes is difficult to stay optimistic and focused.  But I persevered. Finally, I got something good … A WWII eagle hat pin! I couldn't believe the condition it was in, although it was missing the actual pin. A few days later I was back on the property, this time searching the backyard. After finding more and more junk, I couldn't believe my eyes when I pulled out another WWII eagle pin. This one was much smaller – a lapel pin! As far as my research could tell me, a WWII soldier never lived in the house, so perhaps it was lost by a relative or friend visiting. But to lose one in the front yard and one in the back yard? (This is speculation, of course. There are a number of reasons the pins could have been separated.) I'm very happy to have them as a matching pair.
NJ supplied 560,000 soldiers to the WWII effort. And like it was for WWI, New Jersey was an important manufacturer of supplies and military training. While men were serving overseas, women rolled up their sleeves and flooded the workplace. The New Jersey Digital Highway offers some great history on New Jersey and WWII and has curriculum focused on the importance of the role women played during the war. I highly recommend it!
Korean War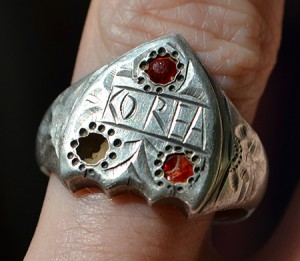 My friend James and I were relic hunting one summer's day on a home built in the early 1700s. We were coming up empty in our search for colonial-era coins and artifacts. Sometimes you can be on what seems to be a great land of opportunity to find old things, and it just doesn't pan out. As I was looking for mid-18th century stuff, I was fortunate to find something very special. Right away I new I had a silver ring, but as I wiped the dirt away from the face, I could see it had handmade carvings on it, and three jewels (one missing). Further cleaning revealed the word "KOREA." Hmm. I was still confused as to what I had, other than it obviously being a ring. I showed it to the home owner and he had no idea either.
Relic hunting just doesn't happen in the dirt. My detective work continued on the internet. It didn't take long for someone to identify this as trench art. So, someone in the Korean War, during downtime in the trenches, designed this ring by hand. He survived the war, made his way home to the United States, to New Jersey and then lost the ring. It's an incredibly special item, one that I will most likely donate to a museum.
The Korean War was the United States' first time participating as part of a larger, more global military with the United Nations. Our soldiers were fighting on foreign land defending the North Korean attack on South Korea. The New Jersey Korean War Memorial in Atlantic City, NJ recognizes the 890 New Jersey soldiers who lost their lives due to the battle. Next time you're in AC, make sure you stop by the memorial. Their website provides a lot of information and events that go on throughout the year.
While most of what I find when I'm relic hunting was someone's personal item long long ago, nothing hits home more than when I find a military relic. Whether a bullet, pin, button, gun part or even a bugle, it's a reminder of the men and women who put their country and the freedoms they believe in before their own safety. Whether you agree or disagree with the politics involved that lead us to war, it's hard not to respect those in uniform.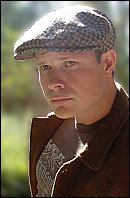 Grant Hansen is an avid relic hunter, and focuses most of his efforts in his home state of New Jersey. He and his detecting partner James run http://relic-hunters.com and work with local and national historical societies and museums to preserve lost history. Some of the best finds Grant has made is the people he's met and befriended along the way. It's the kindness and generosity of property owners that makes it possible for him to pursue his passion. These articles are dedicated to these special people.