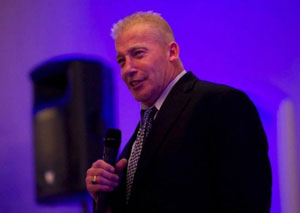 OK, so there's this guy who lives in Brick. He's an actor, recently seen in the film "Not Fade Away," in theatres everywhere. He's played a police officer on TV and many other roles during his as yet, unheralded career. Perhaps the best role he has been given is that of Comedy Fundraising Machine. I have seen Jeff's work on many given nights, entertaining crowds with his classic impressions (if anybody does Archie Bunker better, I want to meet him, or meathead him…whatever), his perfect comic timing, and his genial nature that just makes you want to like him. In a world of manufactured comedians and artists, he's the real thing – working in the trenches of comedy performing in VFW halls, Firehouses or Church auditoriums and lifting spirits wherever he goes. When you walk into a Jeff Norris show, you may have bills, stress or sorrow on your plate. When you leave, you take nothing with you but your hurting cheeks (sometimes the chairs are hard), the tears in your eyes from the constant barrage of stories and one liners and a feeling that you have just seen something special. I'm happy to say that the guy (and he is a guy, a no-bull-this-is-me kind of guy) is just as real off stage as he is on. I'm writing about him to let you know about a show he will be doing this month (more on that later) but also to clue you in on what he's been up to for the past few months. After Hurricane Sandy hit, he almost single-handedly organized a series of comedy benefit shows in several diverse venues. Get this…to date he has raised over $60,000 for survivors of Sandy. He's not the Boss, or the Situation, and he doesn't have the huge press corps that accompanies every star who ever blinks in their direction. He has no great support structure backing him. He just goes out and does it, quietly, methodically and earnestly. A blue-collar workhorse for the people of his state. I believe he deserves his due. For any producers, bookers, talent scouts or agencies out there who may be reading this, trust me. Sign this guy now! You will not be disappointed. Not with his act, nor with his rock solid personality. He recently appeared in an interview on New Jersey Channel 12 where he discussed his Restore the Shore Comedy Relief Tour. Here are but a few of the shows he has done:
* Bayshore Comic Relief in Port Monmouth 100% of the proceeds to benefit Batshore residents.
* Kessler Foundation in Cedar Grove, raising $28,000 for Sandy victims.
* NJ Helping NJ Drive where he unloaded trucks and brought the laughs to the many volunteers who came out for the cause.
And now, this month, there will be another. This one you can go to and see for yourself why people are talking about this guy. Oh, and he's bringing a friend. Sharing the stage with Jeff will be the quintessential Jersey Guy –Joe Piscipo.
It happens on January 19 at Brick High School and tickets are still available. But don't wait too long. This guy is gonna be selling out the big rooms sooner than later. Get on board now, and eNJoy the ride. Thanks Jeff, for all you do. Make 'em laugh big guy.
Here is the site for ticket information:
www.brickschools.org/Schools/BrickTownshipHS/tabid/150/ModuleID/869/ItemID/137/mctl/EventDetails/Default.aspx
Jeff's appearance on Channel 12:
www.youtube.com/watch?v=KpGMLF7ZaUo